Amazing Oils Magnesium Active Spray With Arnica, Wintergreen & Menthol 125ml
The powerhouse combination of magnesium, infused with wintergreen, menthol, arnica and chilli extract  makes the perfect daily magnesium supplement for those who like to lead a more active lifestyle. With added analgesic properties present in wintergreen & menthol it's also a great addition and any first aid cabinet. (Formerly known as Recovery Spray)
Adding topical magnesium into your daily routine is a great way (efficacious and bio-available) to gain the benefits of magnesium and assist in preventing magnesium deficiency.
Low magnesium levels can negatively affect muscle function and lead to cramping and spasms. Magnesium helps move blood sugar into your muscles and dispose of lactate, which can build up during exercise and cause fatigue.
Australian-Made | Vegan | No Nasties
"I do a lot of exercise - walking - weights - gym - and suffer a lot from aches and pains in my neck and back. The Recovery Magnesium Oil Spray is a great product - it soothes and acts quickly and the bonus is it's a natural product." - Lels M.
Australian - Organically Sourced - Natural Magnesium
Gluten Free
Dairy Free
Vegetarian
Vegan Friendly
How to use
Use daily, apply 4-5 sprays (1ml, equivalent to approximately 20mg/ml elemental magnesium) in the morning, focusing on the upper body (arms and chest) to energise. Repeat before and after physical activity or as often as needed.
Australian-Made | Vegan | Scientifically Formulated
Magnesium Sensitive Spray has been scientifically formulated to be as powerful as you would expect, whilst being gentle on sensitive skin
"It is the best. I spray it on my feet every night and also now the backs of my lower legs for a better sleep. And I use it on my lower back when I have a dull ache. And I also have gluteal tendinopathy in my hip, which I use it for. I think it definitely helps." - Carolyn M.
We are constantly hearing incredible stories about this product, check out some of the reviews below!
Product Ingredients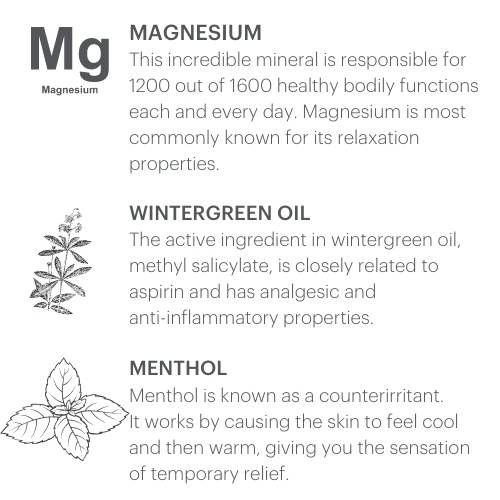 Detailed Ingredients List: Magnesium Chloride, Aqua, Wintergreen Oil, Menthol, Arnica Extract, Chilli Extract.
This product needs to be stored below 25'C in a cool dry place away from direct sunlight.
If symptoms persist, talk to your health professional. If you are pregnant or breastfeeding, talk to your health professional before use for advice on products containing wintergreen.